2.11.5 – BIGGER ANNOUNCEMENT!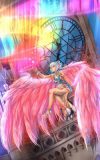 X
Reading Options
Font Size
A-
15px
A+
Width
As you may have noticed, you've helped SuperLuminal to rise to trending! <3  Today we claimed a lofty and happy #3 place!  It may not last, but everything you contribute means it will be shared and read by more and more of ScribbleHub's readers! 
Thank you for all your help! All your favorites, reading, views, comments all contribute to the mix that is a successful story here on Scribble! I love them all and you! *purrs*  I'm an ultra happy kitty today because it happened and it stuck!
For a brief and glorious moment, we had the #1 spot. It was an hour, but #3 is more than enough for this kitty! <3
I was able to tell my Grandfather full of joy that one of his granddaughter's stories was well-liked! That was wonderful!
I made an extra yummy dinner for him tonight, and I'm going to have a lil' more of it! I wish I could share it! *shares*
If I could draw something to celebrate I would, but my skills aren't good enough.  So please accept my heart-felt thanks!
Let's enjoy this second arc as it unfolds, and to give a status update to you, we're 1/3 through this arc!
Here's a teaser for you: In the next few issues, Aurora will crack her first significant case, and fight her first real supervillain!  After that a certain kitty will return, and following that comes greater things! Leona meets a special person and something really amazing happens to her! Or a few? *thinks*
All my loves! <3 <3
Rellawing
PS: *puuuuuuuuuuuuuuuuuuuuuuuuuuuuuuuuuuuuuuuuuurrrrrrrrring*