Volume 3 Chapter 19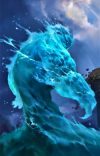 X
Reading Options
Font Size
A-
15px
A+
Width
"Fly towards the left, I feel a strong telepathic message coming from there" Brains said 
"I smell blood from that direction also. It seems a battle must have happened not far from here" Eagle replied
Screech
"There is a wreckage of what looks like a marine ship below us. They are all dead! No, Wait, There is a small boat with 3 people floating on the sea." Eagle used his eagle vision to search the area.
"Can you carry the boat back to base?" Brains asked
"I think so, you will have to sit in the boat also, I will need my back free for this" Eagle replied
"Sure" Brains agreed.
"Instructor Z?" Brains yelled
"Yes we are supporting Instructors, Instructor Z is suffering from blood loss and does not have much time," Ainz said
"Ok, Eagle please take us back to base" Brains said as he jumped into the boat. "If you don't mind, I will use my power to ease the effects on his mind"
"Omoi Omoi no Mi (Mind Mind Fruit) : Suppression"
"Who are you guys? What base are you from?" Binz said
"We are soldiers under Rear Admiral Atlant, you might know him as Rose D. Ezra '' Brains replied as the boat shot up into the air.
"EZRA is here!" Aniz and Binz shouted in shock.
Ring Ring
"This is Marine HQ reception, How can I help?" A receptionist answered the call.
"This is Rear Admiral Rose D. Ezra, connect me with Fleet Admiral Sengoku right away" Ezra replied
"Wait a moment" the receptionist was shocked, 'why did this Rear Admiral have to use the general line to connect with the Fleet Admiral, anyway it's not my place to say anything'
"Ezra have you found Z," Sengoku said as soon as he picked up the microphone
"I can't give you the full report at the moment Sir, but we have rescued Instructor Z and 2 Rear Admirals Ainz and Binz. Unfortunately, no other person survived, the crew and trainees were all dead by the time they were found." Ezra reported
"Hmm, that is bad! Have Z and those two sent back to HQ asap!" Sengoku instructed
"Another thing Sir, Instructor Z lost his Right arm in the battle, due to blood loss his body has entered a comatose state, we are currently treating him here at G-5. When he stabilizes we will send him and the others home." Ezra added
"WHAT! Black Arm Zephyr lost an arm? Who did this?" Sengoku yelled down the microphone
"From the scene and clues we gathered from our investigation, we believe it was a hit from the local pirate lord, Doflamingo. We are waiting for Ainz or Binz to recover a little to find out more, it's just that they might be a little traumatised at the moment." Ezra replied.
"Warlord, okay, Good Job. Send them home as soon as you can, or move them to G-1 base! It has a better medical facility than that dump…." the phone cut off.
'I was looking for a reason to start a war! Now I have my reason.' Ezra thought. "Doc, Stabilize all 3 of them, get them shipped off to G-1. we have a lot on our hands to look after them. But make sure you tell them that we will handle their revenge." He said 
"Yes, Captain!"
"Bomber, I want you to ramp up the training from now on, split the Unit into Haki and non-Haki users, I want a more specialized type of training going forward. We have one year to get the new blood's in shape and integrated." Ezra instructed
"Don't worry Captain, we have our best man on the job" Bomber replied
"Good, we are going to need recon as well. Eagle that's where you come in, You and Shade will be on scouting duty. I want to know all the information about Dressrosa, its history, how Doflamingo became its king, changes since then. I want to know the terrain, the number of pirates on the island, their location, defences, and shift patterns. Here is a list of the officers and inner circle of the Donquixote family." Ezra said seriously, "We have a year, take your time to thoroughly investigate."
"Yes Sir!"
"Brains did you get the information I asked for?" Ezra asked without looking behind him
"Yes, Captain. I have made the list of all the Lieutenants, their powers, their style of fighting and weapons. I guess we all will be undergoing specialized training also?" Brains replied.
"Yes, everyone needs a power-up!" Ezra said calmly. 'Our campaign this time is to The Beginning' he thought as he looked at the paper.
Sex

 

Weapon / Style

Codename

Devil Fruit

O

Haki

A

Haki

M

1

Guns

Shields

Bari Bari no Mi (Barrier Barrier Fruit)

B

B

M

2

Sword

Eternal Marine

 
 
 

M

3

Sword

Plus

Purasu Purasu no Mi (Plus Plus Fruit)

B

B

M

4

Sword

Minus

Mainasu Mainasu no Mi (Minus Minus Fruit)

B

B

M

5

Kicks

Brains

Omoi Omoi no Mi (Mind Mind Fruit)

M

B

F

6

Sword

Eternal Marine

 
 
 

M

7

Unarmed

Leo

Neko Neko no Mi (Cat Cat Fruit) Model: Lion

B

M

M

8

Unarmed

Black Panther

Neko Neko no Mi (Cat Cat Fruit) Model: Black Panther

B

B

M

9

Kicks

Shade

Shakou Shakou no Mi (Shade Shade Fruit)

B

B

M

10

Guns

Eagle

Tori Tori no Mi (Bird Bird Fruit) Model: Eagle

B

B

M

11

Sword

 

N/A

-

B

M

12

Sword

 

N/A

-

B

F

13

Guns

 

N/A

B

-

M

14

Guns

 

N/A

B

-

M

15

N/A

Iron Soldier

Cyborg

B

-

F

16

Sword

Chef

Naifu Naifu no Mi (Knife Knife Fruit) 

B

B

F

17

Guns

 

N/A

B

B

M

18

Guns

Guns

Ute Ute no Mi (Shoot Shoot Fruit)

M

B

M

19

Unarmed

Beast

Yajuu Yajuu no Mi (Mimic Mimic Fruit)

B

B

M

20

Sword

Bomber

Basu Basu no Mi (Explosive Explosive Fruit)

M

M

M

-

Scalpel

Doc (Law)

Ope Ope no Mi (OP OP Fruit)

B

B

F

-

None

Hara (Robin)

Hana Hana no Mi (Flower Flower Fruit)

-

-
B= Basic Mastery, M= Medium Mastery, A= Advance Mastery
"Captain, we found a fruit amongst the items recovered from the wreckage." No, 17 said, as she handed over a small, round pink fruit with the tail of a lizard. "We have looked up the fruit it is called Yajuu Yajuu no Mi (Mimic Mimic Fruit), It is a paramecia fruit that allows the user to switch between animal modes, not physically transforming like Zoan-types but using their power until a timer runs out."
'This should go very well with No. 19' Ezra thought as he looked down on No. 19 on the list only to see that it had already been indicated on there. 
Ezra smiled,
"Give it to No. 19. Also, inform him of his codename change to Beast" Ezra said."Have you, No. 11 - No. 14 made your mind up? Will you be going down the Devil Fruit route?"
"Captain, we discussed it, the 5 of us have chosen to remain without the fruit's power. We want to push the human body to its limits." No. 17 replied shyly
"Very well, this is your decision. I won't force you." Ezra replied, "Tell Caesar to add making limit break pills to his to-do list. 5 of you will be receiving special training from me this year."
"Yes Sir!"
"Do you think you are special? Look at the younger officers training, they are still running with weights and armed to the teeth in combat gear. You all are just running in fancy new Uniforms and you are complaining. Run as if your life depended on it.
Run, when you are tired, run some more! When you are hungry, Run some more!" Leo yelled as the officers ran to and fro the field
'WHO IS THIS DEMONIC LION INSTRUCTOR! NOTHING HE SAYS MAKES SENSE' the officers thought
"After weeks of running, we are now ready for stage two, I heard you all either use a gun or a sword as your weapons right?" Leo asked
"Yes sir, this was the requirement from the previous Captain" they replied
"Take a look at the stance I am in, this is called the horse stance. You will sit in this stance for a whole day with your weapon of choice in your hand. If you all can complete this without a member quitting then you have successfully passed my session of the training. You all are stronger than most marines, so we have to push you differently" Leo said with a smile that revealed his four Canines.
'DEMON LION'
6 months went by.
600 marines were now training hard on the south training ground, some were shooting, others were climbing. Some ran and others stood in the Horse stance. There were no Lieutenants watching the training but no one slacked off. 
In another section,
"Bloodied Lieutenants were all over the floor. Remember if you cannot stand up and fight, you will lose or die. This is not a field trip we are going to War." Ezra was standing in front of the Lieutenants with a bluish-black trident in his hand. "I will not go easy on you all, even Instructor Z who is known as the Haki Guru, Black Arm lost an arm in this fight. This is to tell you that our enemies are strong. On your feet. Powers or not you all are still to train your foundation."
"Yes Sir"
"Caesar are you alive?" Ezra asked
"Yes Captain, Just barely. I was hired as a scientist. Why do I have to join such brutal training?" Caesar replied
"Everyone on his ship is a trained marine. Since you have been hired on the ship, you have to be trained. Caesar, you hand out the pills everyone takes a blue pill like normal." Ezra instructed before asking "How are those 5 doing?"
"Captain, they are stable, the system I developed is currently monitoring their body changes. Only one or two might be successful, but this should push their physical properties to danger doriki level when it is complete." Caesar replied.
Year 1521!
"Line up! Attention!" Bomber yelled.
"It has been a tough year for all of you, you have all trained beyond what you considered as normal. You might not know how strong you are but I tell you today that you are STRONG. We Atlanteans are the strongest force in the sea. We bring the wave of change to every sea we are on. Now it's time to set out to do the same in the New World. Let me introduce you to our new ship, Atlantis 2.0!" Ezra announced.
Splash
The submarine broke through the surface of the water as it emerged.
"We are officially in Code Red, your team leaders have been assigned, everything starts when we arrive at our destination. IT'S TIME TO LIBERATE DRESSROSA!" Ezra announced
"Yes Sir"