48. Reincarnators.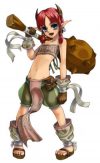 X
Reading Options
Font Size
A-
15px
A+
Width
I tried opening my eyes but something was blocking my view… It was something soft and heavy...
"Ngn…"
The soft and heavy things were also bouncy… It was an extremely familiar feeling…
Someone was also patting my head…
Ah… It must be Silvia…
I don't want to leave this position then…
I hugged Silvia and tried to return back to sleep…
There was now something strange massaging my back… It felt like an arm, but it was a bit hairy…
It didn't feel unpleasant… In fact, it was quite relaxing.
Then… Another two of those strange and hairy arms started to massage my legs.
(I'm in heaven…) I couldn't help it but to relax.
My face sunk further between the soft valley in front of me...
I want to stay like this forever…
"♦♦♦♦♦♦♦♦♦!" A feminine and cheerful voice spoke in a familiar language that I don't speak…
Who's that...? 
(Ah...!) My whole body trembled thanks to the massage...
The strange arms started to vigorously massage me… Another two of those hairy arms joined in and were now massaging my shoulders…
"♦♦♦♦♦♦♦. ♦♦♦♦♦…" A less enthusiastic feminine voice spoke with a dejected tone.
Ah… I don't know what is happening… But please don't stop!
(♦♦♦♦! ♦♦♦♦♦♦… ♦♦♦♦♦?) An extremely cheerful voice resounded in my head.
I couldn't care less about not understanding these voices… The massage felt way too good…
Auuuu… I'm in heaven… I actually died and went to heaven…
"♦♦♦♦♦! ♦♦!" Silvia spoke with a mischievous tone.
Ah…
I then realized something… Silvia was not the person currently holding me and giving me a massage. I could hear her talking a few meters away from me...
Just when I realized that, the massage suddenly stopped...
"Liked the massage?" The person currently holding me spoke with an awkward tone.
Huh…? Why does this voice feel so familiar…?
I raised my head and took a peek at the person who was holding me.
I then saw a black haired girl with pale skin and delicate facial features. Her hair barely reaches her shoulders. There's something strange about her though…
She has eight eyes… Two normal blue eyes. And another six smaller red eyes distributed all over her forehead…
This girl had a gentle expression on her face. She was smiling at me quite warmly…
I won't lie… I was completely hypnotized by her mesmerising beauty… She also felt oddly familiar for some reason…
Where have I seen her before…?
The girl just kept smiling warmly at me… Those strange hairy arms pushed me against her… She was hugging me tightly…
"I love this…" She spoke with an awkward tone. 
(Tomoko, I know you're happy and all, but it kinda pisses me off that I can't do that!) The previously cheerful and now annoyed voice resounded in my mind again…
The girl in front of me stuck out her tongue to someone behind me.
(Just you wait until I evolve, Tomoko…) That voice in my mind was instantly pissed off.
Okay, how did I end up in this situation?
I remember that we reached the inn of Elise's family and then… I was attacked by a spider… No! I was attacked by a woman riding a gigantic white spider…
Everything is kinda fuzzy after that…
"Hehehe! I'm so happy!" The girl in front of me smiled from ear to ear… The strange and hairy arms were still pushing me against her.
"Umm… Who are you?" I asked.
The girl didn't respond. The one who answered was Silvia.
"Ru! You finally wake up! I was starting to get worried!" Silvia said with excitement.
I wonder why she is so excited? Did something good happen after I was attacked?
I then looked to the side and noticed a girl with a familiar appearance. She looked just like Nozomi.
She had a pair of big mouse ears, golden eyes, long grey hair and she's 1.40 meters tall…
She had an annoyed expression on her face while drinking a cup of tea.
I also noticed that we were near Elise's inn… Or rather, I think we were on the patio of the inn… There was a large stable nearby with several piles of hay nearby.
We were in the middle of the patio sitting on a round table… There were some cookies and other desserts on top of the table.
Me and the girl who looks like Nozomi immediately made eye contact.
"So, you're the one who married these girls huh… My condolences… It must be quite rough on you." She said with a sad expression.
"Ah! Suisui-chan! Don't talk like we were a burden!" Silvia got annoyed.
Suisui-chan?
(I haven't even done anything to him yet!) The voice in my head also got annoyed.
"You're a bother. Can't do anything to him with you here." The girl holding me also got annoyed…
Okay, what the hell is going on? What does she want to do with me…?
"Ah! Sorry! I guess I should introduce them to you!" Silvia said to me after noticing my confusion.
"Yasui Suika. Nice to meet you." The girl who looks like Nozomi smiled at me and bowed.
Ah! Now I see why Silvia calls her "Suisui-chan."
"Ru, she's Suisui-chan! She's my highschool teacher!" Silvia seemed really happy.
Whoa… So her highschool teacher was also reincarnated here…
"Please call me Suika. I detest with burning passion that cutesy nickname…" Suika said with annoyance.
"But it really suits you now that you look like that!" Silvia said mischievously.
Suika didn't respond… She simply kept drinking her tea and started reading a book.
"Next, we have…-" Silvia was suddenly interrupted.
(Me! Let me introduce myself next!) The voice in my mind
A black mare quickly appeared beside Suika. It was Blanca.
There was a strange spark in Blanca's eyes… 
(Well, I guess this is more like reintroducing myself. My name is Yoshimoto Sae! Nice to meet you!) The voice talked in my head with excitement.
Ah…
As soon as that voice spoke, I realized three things…
One… Blanca is actually a person… Or rather, a reincarnated person...
Two… I think I now know why she was at that beach during my marriage ceremony…
And three… I actually married a horse…
I was sweating bullets thanks to the realization...
"That's Yoshiyoshi! She and I were in the same classroom!" Silvia was extremely excited.
So Blanca was a classmate of Silvia… And her name is actually Sae…
Not gonna lie… I didn't expect this to happen at all when I woke up today…
"And finally… Well, I guess you already know her. Hehehe!" Silvia said while giggling.
I then looked at the girl who was hugging me…
She was looking at my face very intently… She smiled warmly again.
"Kagiyama Tomoko… I was looking forward to finally meeting you again, my love!" She started rubbing her cheek against my own cheek…
Huh..? "My love"? Looking forward to meeting me again?
What is she even talking about…?
"This is my best friend Tomo-chan! We have known each other since we were toddlers. Well, not her but on Earth!" Silvia appeared behind Tomoko and smiled at me.
Silvia's best friend? So she reincarnated here too? Man, at this rate we are going to have a reincarnator convention...
"What do you mean by looking forward to meeting me again?" I asked Tomoko.
She didn't respond and just hugged me tightly.
"Ru, you two already know each other… You could say that you're quite intimate…" Silvia said with a bitter smile.
"Let's build a nest and have thousands of spiderlings~." Tomoko said with glee.
One of the strange hairy arms suddenly fixed Tomoko's hair… 
It was not an arm, it was a spider leg… The leg was completely covered in white fur...
…
…
…
I then realized something…
"S-Silvia… Don't tell me that your friend is…" I stuttered and couldn't even finish my sentence.
My whole body was trembling…
What I realized is that Tomoko is the white spider that tried to eat me at the Trial of Instinct…
So Tomoko was also the one who jumped at me when we reached the inn…
"Yep! The one at the same!" Silvia nodded.
Strangely, even though my whole body was trembling… I felt less scared of her now for some reason…
Tomoko then started to give me small little kisses on my cheeks…
(Awww! That looks so cute! I want to do the same when I evolve!) Sae said with a lot of enthusiasm. She was nodding vigorously for some reason.
"Cute? It looks like a snake is about to devour a small rodent… Just look at him, he's trembling! Tomoko, what did you do to scare him so much?" Suika asked with an expression filled with concern…
I'm extremely confused… I felt a bit scared of Tomoko, but not as much as when jumped at me when we arrived at Alorari… Despite that, my body will not stop trembling…
"Don't compare me to those stupid lizards!" Tomoko suddenly got annoyed… She started to hug me even tighter than ever before…
"I can't breathe…" I muttered.
"Hehehe! There's nothing like hugging the original one!" Tomoko said with excitement. There was still a bit of awkwardness in her voice.
The original? What does she mean by that…
I could only look at Tomoko with concern…
"Look at this, Ru! Isn't it cute?" Silvia was holding a small white doll.
It was a doll that looked like Silvia… It was made out of a strange material.
"Tomo-chan made it with her silk! She also made a lot of dolls for you! They are extremely accurate." Silvia said with glee.
The small doll was one hundred percent accurate… It really looked just like Silvia... 
Silvia was smiling from ear to ear while showing me the doll.
Not gonna lie, I could only smile just by looking at her happy and excited expression…
Her happy expression for some reason made me remember the things she had written in her diary...
It makes me happy knowing that Silvia has more people who care about her and know how her previous life was.
"I have more than just a lot~." Tomoko kissed my cheek again…
(Make one for me next!) Blanca… I mean, Sae said with excitement.
"That will have to wait for a while. Sigh… To think I would find all of you here… And it is kinda funny that you ended up marrying another reincarnator. Then? How did you all die?" Suika asked us while looking at Tomoko and me.
(My plane crashed on my way to the Olympics!) Sae said with a lot of excitement.
That sounds a bit painful…
"Oh? So you did manage to get into the Olympic team... That's good to know." Suika nodded while smiling.
(Hehehe! Thank you very much!) Sae nodded vigorously and neighed happily.
Sae was standing proudly and posing in front of the table...
"Then, what about you Tomoko?" Suika asked as she took a sip of her tea.
"I got shot during a terrorist attack at the mall. That's all I remember." Tomoko said with a flat tone while patting my head with her spider legs…
It was actually a very nice feeling...
"That sounds pretty scary… I'm sorry about that." Suika smiled bitterly.
Yeah… I can't imagine how she must have been...
"Ah, don't feel pity for me. I'm better than ever~." A strange smile appeared on Tomoko's face.
Her smile made me feel shivers down my spine…
I don't think I'm safe with this person...
"Airi?" Suika looked at Silvia.
"Sigh… I suffocated underneath a mountain of my own manga and porn magazines..." Silvia's happy expression immediately changed to one filled with shame.
"As expected, of the perverted loli." Suika nodded to herself.
"Suisui-chan...! Don't look at me like that! I know it was an embarrassing way to die! Please let's not talk about it!" Silvia covered her face with both of her hands to hide her embarrassment.
Before she covered her face, I saw that her cheeks and ears were completely red.
I mean, yeah it kinda sounds a bit embarrassing… I can't imagine what the person who found her felt as soon as she saw that scene…
"Anyway, what about you?" Suika asked me with an expression filled with curiosity.
Ah, mine… Right.
"I got a hot oil bath thanks to one of my co-workers…" I said with a bitter smile.
Now that I remember that, it was a pretty painful way to go huh… I barely remember the trip to the hospital though… I think I didn't even make it there.
For some reason, there was only silence… 
Everyone was looking at me with pity… Even Silvia…
"Painful, yeah I know. What about you Suika?" I asked with a bitter smile.
I was trying to change the uncomfortable atmosphere…
"Ah… Me? I died during an earthquake. A chunk of concrete crushed me while I was sleeping, so… It was pretty quick. Didn't feel any pain." Suika said with a blank look on her face.
Oi… isn't that just worse than my death…?
"Suisui-chan…" Silvia looked at her with pity.
(That's…) Sae was also looking at her with pity.
Even Tomoko had a difficult to read expression...
The atmosphere simply got even heavier than before...
"I think I shouldn't have touched that topic… Anyway, I see that you have been doing well here, Airi… Or should I say Silvia Ravencroft, The Calamity Witch?" Suika asked with a grin.
"Hahaha… It is kinda embarrassing to be called like that, Suisui…" Silvia smiled bitterly.
Ah… What a relief… The heavy atmosphere is gone.
"To think that the magician that I admired the most as a child and the person I wanted to be like when I grew up was none other than the Queen of loli perverts, Utsumi Airi! What's up with that?" Suika was grinning from ear to ear.
"It wasn't supposed to be like this… I should be the one bullying you… Even though I look like this and you're a loli now, you still bully me… You're so mean, Suisui-chan!" Silvia's expression was soon filled with despair.
"I'll admit that at first, I thought I would be bullied by you… Even though you have lived a long life, you're still the same perverted loli at heart. That's why you will never be able to beat me, Ai-chan~." Suika smiled warmly at Silvia.
"Ugh… It won't end like this!" Silvia got pissed and pouted…
It is actually kind of cute seeing her act so childish.
(Hahaha! This feels like we are in highschool again!) Sae laughed loudly.
"It does feel like that. Ai-chan and Suisui-chan will always be fighting like kids." Tomoko nodded in agreement. She was still patting my head with her spider legs.
"Well, that was a long time ago. I do like the nostalgic feeling though." Suika said with a smile before eating a cookie.
I'm hungry…
"Tomoko… Can you let me go please?" I asked her since she was still hugging me quite tightly…
"Sure! This time you will not escape from me though… Tonight we will ♦♦♦♦♦♦♦♦♦! and ♦♦♦♦♦♦♦♦♦! ♦♦♦♦♦♦♦♦♦! but ♦♦♦♦♦♦♦♦♦! ♦♦♦♦♦♦♦♦♦ ♦♦♦♦♦♦♦♦♦ ♦♦♦♦♦♦♦♦♦♦♦♦♦♦♦♦♦♦! ♦♦♦♦♦♦♦♦♦!" Tomoko suddenly started speaking in another language. She was looking at me with her eight eyes very intently...
I felt shivers down my spine for some reason…
"Tomo-chan… That's way too kinky… Even for my standards…" Silvia smiled bitterly.
"What the hell!? Tomoko, I would have suspended you if you said that kind of thing back on Earth! I'm so glad that Nozomi is not here to hear that!" Suika got extremely angry… She got up to yell at Tomoko.
(Wait a minute... You can do that?) Sae was more intrigued rather than angry...
Tomoko simply smiled and let go of me… I had the feeling that she was still looking at me very intently… Because of that, I did not turn around to find out...
"I will not ask what she said… For how long have I been unconscious?" I asked.
"Thirty minutes, give or take." Silvia with an uncomfortable expression.
"I see… Where are the others?" I asked while I grabbed a cookie from the table.
It was delicious…
"Nozomi is playing around with your sisters and some children outside the inn."  Suika said with a slightly annoyed expression. Her cheeks were still kinda red.
(Junko said something about visiting the local temple. The goddesses also went to the temple with her.) Sae explained while neighing.
"Mara, Lara and Elise started helping Elise's mom because a lot of people came to drink and talk about Suisui-chan's wyvern." Silvia was rubbing her chin.
Just as Silvia said that, a small boy (he is still taller than me) appeared while bringing a tray with more tea.
The boy has short brown hair, blue eyes and freckles on his cheeks. He's almost as tall as Nozomi and Suika. I think he should be around 1.37 meters tall. He was wearing shorts and a brown tunic.
"Umm… Mom sent you more tea…" He said shyly… He got flustered just talking to us.
Ah, so this must be Elise's little brother… They really look alike.
"Thank you very much, Leonard. You're a good kid." Suika smiled.
Oh, so that's his name… I see.
For some reason, Leonard was looking quite intently at me…
"Umm… Are you by any chance, Ru?" He asked shyly.
"Yeah. Nice to meet you." I extended my hand to greet him.
"Ah! Yesh! Nice to mee...- Owwie!" Leonard started to shake my vigorously… He also stuttered and bit his tongue.
That seemed a bit painful…
Leonard then started to tear up.
"Are you okay? Silvia, can you heal him please?" I asked Leonard.
For some reason, Silvia and Tomoko were looking at each other and whispering strange terms that I did not understand…
They also said "BL" or something like that… They were talking in Japanese, so I didn't really understand their conversation…
"Oi! You two are married now! How can you say something like that!? He's a kid!" Suika also heard them… She got pissed off for some reason.
(My masters, I see the light of BL now… Please take me as your disciple!) Sae also shouted something strange.
Sae, Silvia, Suika and Tomoko then started to argue in Japanese, leaving me to take care of Leonard…
"Everything will be fine, okay? That happens to everyone… It is more painful for me though…" I said while showing him my fangs.
I bit the inside of my cheek with my fangs… I do not recommend it… It was way more painful than when I was a human…
"Whoa…!" Leonard stopped crying… He looked at my fangs as if he had seen something incredible.
Phew… I managed to comfort him…
Well… The group of reincarnators behind us started to talk about "BL" this and "BL" that even more intensely than before… Silvia even mentioned my age for some reason…
Seriously, what the hell is "BL"...?