Throw Him Under The Bus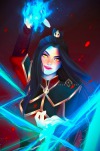 X
Reading Options
Font Size
A-
15px
A+
Width
In the South Pole, where the temperature could freeze your balls off, a boat was sailing through the snow covered waters.
This boat was puffing out smoke as it plowed through ice covered waters to move forward. At the top of this particular boat was a red flag with a black tear-drop-like flame with three tips.
Shiing!
Suddenly, far off into the distance, a bright light distorted the peaceful ambience of the South Pole. The piercing bright light reached out into the sky and went past the clouds, alerting anyone and everyone near and far.
Everyone in the boat looked at the light in the distance in awe and shock. They remained stunned and quiet until they heard the cries of a young man calling for his relative.
"Uncle, do you know what this means?" asked a young man with a burn scar on the left side of his face.
Near the young man was a chubby old man with gray hair who answered his nephew, "I won't get to finish my game?"
Ignoring his uncle's response, the young man turned around and continued to look at the blinding light in the distance.
"It means my search is about to come to an end," said the young man with a determined look in his eyes.
Sighing sadly at his nephew's words, the uncle continued to play his game. His mind no longer focusing on the game as he thought about the difficulties his nephew had to endure at such a young age.
Not caring what his uncle was sighing about, the young man became fierce as he continued talking about the light, "That light came from an incredibly powerful source!
It has to be him!"
The uncle, trying to dissuade his nephew from continuing on this path of fierceness and destruction for his honor, said, "Or, it's just the celestial lights."
Gesturing to the sky, the uncle looked back at his nephew.
"We've been down this road before, Prince Zuko. I don't want you to get too excited over nothing."
The old uncle played a little with his game and eventually a small smile appeared on his face as he looked up at his nephew kindly.
With a warm smile, the old man gestured in front of him, "Please sit. Why don't you enjoy a cup of Jasmine Tea~."
"I don't need any calming tea!"
Prince Zuko snapped at the uncle, no longer tolerating his nonchalant words and actions. He was tired of his uncle mentioning the Jasmine Tea many times and was already irritated.
With a contorted face and his nostrils flaring, Prince Zuko continued to yell, "I need to capture the Avatar!"
Looking away from his uncle, Prince Zuko looked up to a person standing near the railings.
"Helmsman! Head a course for the light!"
The helmsman nodded and walked away before turning to look at a youth who had no helmet on. The youth was very good looking and even has good luck with the ladies. His black hair was a bit long and a little curly, reaching his shoulders.
The young man was 1.8 meters tall, slim and had the perfect body to grow some muscle.
The Helmsman frowned as he looked at the 'pretty boy' and said in a deep voice, "You heard the Prince, Genji. I need you to assist me."
The youth named Genji sighed and stood up and went over to assist the helmsman in directing the boat's course to the light.
"Right… right…" sighed Genji as he looked at the place where the light had disappeared before a strange look appeared on his face.
'The Avatar… huh!'
The young man snorted in disdain before thinking, 'That pipsqueak is just annoying, much like that damn woman Katara and her whiny ass brother, Sokka.'
Genji, much like you have deducted, had appeared from Earth and had seen Avatar before, both The Last Airbender and The Legend of Korra. He had not only seen Avatar, but some anime and other cartoons, but that was of no relevance as of right now.
What was of relevance was how he was transported to this world five days ago when he was sleeping! He knew he didn't die because he had appeared within this world with his own body.
Genji had been teleported onto an empty bed in the middle of the night and no one had found it odd that some 'new' guy had appeared. It might just be due to the helmets they always have to wear.
His appearance received not much of a change besides his eyes that changed to a golden color. When he had seen this in the water a day ago, he had almost fallen off the boat!
Not only that, but he had something special that no one else could see…
[Name: Genji
Level: 0
Power (Speed + Strength): 5 (Average Human 5)
Vitality (Healing Speed + Health): 5 (Average Human 5)
Energy: 0 (Average Human 0-1)
Stat Points: 0 (+4 per Level)
Experience Storage: 0 (Can increase Character Level or Skill Level.)
Skills: <Novice Poleman>(Lvl. 8)
Storage: N/A]
He didn't know what type of thing he had received, but he did know that with this system thing, he could grow stronger.
Since he had no way of Firebending at the moment with his energy stat at 0, Genji had focused himself on training with the spear and staffs he had been given. Although he was forced to at first until he suddenly learnt the skill for it.
He was currently at a loss on how to level up his personal level since he hasn't had any opportunity at all to figure out how. Since the day he appeared, he was forced to train and if it wasn't training, he had to assist many of his crewmates.
Genji, however, was sure that it most likely still followed the gaming trope. Kill, or defeat, someone to gain experience.
A deep voice suddenly pulled Genji out of his daze, "Hurry up lad, get a move on."
Nodding, Genji ran as fast as he could to relay the instructions to the crewmates.
A while later, it was all done and he was now just looking at the boat sail to where the light was at.
Looking around, Genji was feeling rather bored as he waited for the ship to arrive at the destination.
'At times like these, one should have fun,' thought Genji as he looked over at his helmet before smiling.
His helmet was a simple one that didn't cover his face, he wasn't one of the firebenders after all. Genji was currently only considered a foot soldier.
Looking around, Genji picked up the helmet and smirked as he went down to the headquarters.
"Halt! Where are you headed?" asked a Firebending soldier as he gazed at Genji with suspicion.
With an indifferent look on his face, Genji responded, "I'm looking for candidates for Prince Zuko's sparring partners."
The firebending soldier paused for a second before reluctantly letting Genji pass.
The soldier next to the firebending soldier looked at the firebender with a weird gaze, "Why'd you let him pass?"
"I don't want to become the Prince's punching bag…"
"I feel you," said the soldier as he removed his helmet and revealed some bruises on his face.
The firebending soldier flinched back in surprise, "Wow. The Prince really let you have it…"
"Shh… be quiet or I'll call back that foot soldier from before to sign you up," said the bruised man with a glare.
"..."
…
After walking away from the firebenders, Genji eventually made it to an empty hallway and found what he was looking for.
Entering the Firebender soldier barracks after making sure it was empty, Genji removed his helmet and threw it into his system space before looking for a firebender soldier helmet and a firebending scroll.
The helmet was easy to find and it wasn't too long before he had found the firebending scroll.
As soon as Genji's hand grabbed a hold of the scroll, he heard something in his head.
[Ding, <Firebending Scroll>]
[Learn?]
[Yes / No]
Looking at the scroll with a bit of shock, Genji didn't hesitate and instantly pressed 'Yes'. He didn't know he could learn skills in such a simple way. Before, he had to continuously train in order to unlock the Polearm skill, and once it was unlocked, the level skyrocketed from his hard work.
Not only that, but the instant he learnt this skill, the basics of how to Firebend was instantly imprinted within his mind and could easily be remembered whenever he wanted. It taught him how to properly guide his energy around his body to properly Firebend and not incur any damage or hurt anyone by accident.
[Ding, Learned <Firebending>]
[<Novice Firebender>(Lvl. 0)]
With a smile plastered on his face, Genji couldn't wait to try out this new skill of his. Quickly following the instructions and his gut feeling, Genji extended out his hand and a flame appeared over his palm.
Fwoosh!
A bright blue flame appeared from out of nowhere and instantly began to heat up the room.
[Ding! Skill level up!]
[Ding! Skill level up!]
[<Novice Firebender> (Lvl. 2)]
Genji smiled at the skill level up before focusing on the flame in his hand.
'A blue flame! Nice!' thought Genji as he looked at the blue flame on his hand. 'Does this mean that I learn a perfect version of any skill or technique through the help of the system?'
Genji delved deep into his thoughts, momentarily forgetting to sustain the blue flame in his hand. The blue flame suddenly grew larger and instantly spread from his hand over to the wooden desks, benches, and even cabinets that held the weapons and armor!
All the while Genji was still thinking.
'Learning the perfect version of any skill is very amazing. This means I will be presenting less and less flaws as I get stronger!' Genji was jumping in elation within his mind as he thought about all the pros to his system.
Just from this one skill, he instantly knew that he would be performing perfect versions of skills. He knew that on average, a firebenders flames would be orange/yellow, but Azula's was the only one who's flames were blue.
Why?
Because she was a perfectionist!
Blue flames were the personification of a perfect combustion, leading to higher temperature outputs.
Suddenly, Genji began to feel very weak and hot.
His body felt soaked and he instantly stopped thinking as he focused on what was happening around him.
The fire in his hand had long since died out and he was now looking at a burning room that was quickly being put out by many firebenders.
Genji could only watch weakly as the flames were put out and he remained on the floor lying down.
"You! Did you cause this?!"
Just as Genji thought his situation couldn't get any worse than burning a room, he heard the yell of a young man.
More importantly, Prince Zuko.
Because Genji felt so drained and lethargic, he couldn't lift his head even a little. Only incurring more anger from Prince Zuko.
'Oh fuck me… am I going to be killed off soon? Damn,' thought Genji as he sighed disappointedly in his heart.
"Was it you?!"
Just as Genji felt like his future in this world was turning bleak, Genji noticed how Prince Zuko wasn't yelling at him, but at an innocent young man with some burn marks on his uniform.
"N-no! It wasn't… m-me, Prince!" stammered the young man in fear.
Genji's eyes lit up and he instantly felt like he had luck on his side. With a nasty grin in his heart, Genji mustered all his strength to move a bit.
Glaring at the young man, Genji tried speaking, "You… cough! You did this to me! How could you… cough! Burn this place down!"
"Wh-wha-"
The young man was flabbergasted, never expecting for the man that was passed out to suddenly wake up and pin the blame on him.
"I tried to stop you, but you… cough! Knocked me out instead!"
Trying to put up the most convincing act he could, Genji even tried to cough up a little blood, but it was all in vain.
Instead, he only got a disgusted look from Prince Zuko and an angry look from the young man who couldn't take it anymore.
[Ding! Learned a new skill!]
[<Acting>(Lvl. 1)]
Damn!
'That's not the effect I was looking for!'
Sighing in resignation within his heart, Genji waited for Prince Zuko to realize what was going on.
"How could you burn the barracks!" yelled Prince Zuko, his face contorting into one of complete anger.
Genji closed his eyes and awaited his impending doom only to hear the young man wailing and begging.
[Ding! Skill level up!]
[Ding! Skill level up!]
[Ding! Skill level up!]
[<Acting> (Lvl. 4)]
"Please Prince Zuko! Give me another chance!"
Opening his eyes, Genji looked at the young man who was crying as he prostrated before Prince Zuko and begged for his life.
"Hmph, I'll let you off this once. However, your punishment is to take over cleaning duty for all the bathrooms on the ship. If they aren't up to standards, you will be thrown into the water. Not only that, but you will be demoted. Your pay will be severely docked until all the damages had been paid until the very… last… copper piece," said Prince Zuko as he turned and walked away, but not before sending someone to take Genji to the infirmary.
'Phew… I somehow survived that,' thought Genji as he let a small smile form on his face.