Chapter 1: A streak in the sky comes with a alien!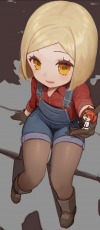 X
Reading Options
Font Size
A-
15px
A+
Width
A streak in the sky... Flying so fast it creates a sonic boom... Crash landing into the no longer peaceful countryside... A farmer curious and cautious comes with her dog... The dog warily whimpers at the whiff of a smell... 
"Billy it's just a rock nothing to be worried about... Be a good boy and come along!" Billy drags his feet as the farmer heads out with a magi tech rifle... After a good few minutes, they arrive at a round metallic ball. 
Curiously the farmer walks up to the ball... After prodding for a bit she finds a button... Clicking it she watches in interest... A hatch opens Billy growls in warning... An amorphous flesh-like being wiggles out... One word on their mind... 
[SCOUT] The being slithers over to the farmer who in shock shoots it... But it comes out unharmed seemingly unfazed... Tentacles slowly form before whipping out and dragging the farmer to the being... 
"Whoof!" Billy tries biting the being but can't seem to chew through it... It's Like a very strong and flexible chew toy... The farmer screams in agony as she's devoured forcefully. 
"Ahhhh!" But one thing it didn't account for... Devouring a human brings unexpected... Developments... Memories of the farmer flow through its consciousness, it starts to spasm as it morphs and became a woman... 
The being is no longer a it but is now a she... The dog growls at the imposter... 'What am I? Am I Sophia or am I one with the hive? I no longer feel the need to follow the hive's orders... I still can "Shapeshift" but this form feels more comfortable...' 
As she roams through her memories she finds out she's in a world called Tarra... A very "beautiful world." she admits not that she can compare much because all these concepts are new to her... 
Getting up she looks around before looking at her "cute." boy curiously with a cute tilt of her head... "Billy be a good boy and come to mommy for pats!" 
Billy smells a new scent... One of his original owners and the strange being... Cautiously walking up to the imposter Billy circles around the being before walking up to it... 
The imposter pet's like his old owner but he can tell something is... Off... Warily he allows the being to pet his head some more...