A chapter where a friendship is tested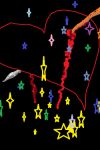 X
Reading Options
Font Size
A-
15px
A+
Width
While Lachersia and Jennifer were having the time of their lives while dancing and singing within Lachersia's illusion, Duke Laras was going crazy.
He didn't bother with explaining himself and dragged his three most trusted confidants over with him and drove his carriage to the village where the children lived at the fastest speed.
"HOW?! How did you imbeciles allow this to happen?! Didn't you hire high-ranked mercenaries to guard the village?!"
"Y-your excellency, please, c-calm d-dow-"
"I am VERY calm right now! Oh, I'm so calm at this moment that if you don't explain what in the hell exactly happened, I'll send you and your ENTIRE fucking family to the other side!"
"Y-your excellency"
"SHUT UP, YOU DUMB INCOMPETENT PIG!"
"A-as you wish, your exc-"
"I SAID SHUT YOUR GODDAMN MOUTH!!!"
And of course those confidants had to suffer under the Duke's wrath.
It took the Duke and the others two days to arrive at their destination. What greeted them was a sight of ruin.
The village where the twins lived wasn't big, but it couldn't be called small either. There were two dozen buildings in the village and a tall fence. All of it became ashes. Scorched stones and bricks, coal-black remains of various wooden structures and crows stood in the stead of a once prospering place.
The crows gathered over this dead land and enjoyed the unexpected harvest. The black clouds flew and landed all over the ruined buildings, consuming their morbid meals.
Their cawing and rattling was very disturbing and was even more chilling than the winds. The Duke stood before this sight with his mouth wide open and his body seemed to freeze in place. His breathing turned erratic and he started making incomprehensible sounds while closing and opening his mouth.
If either Lachersia or Jennifer saw him at that time, they would feel very concerned; the Duke going insane or committing suicide would be very inconvenient for them.
Thankfully, the Duke was somebody who has seen sights. He was a professional warrior and a commander who had led troops to wars. His heart could take more than his current state suggested, so after a few minutes, he came out of the stupor and ran to the twins' caretaker's house.
His confidants were also men who weren't unfamiliar with physical labor but their fitness was still lesser than their liege's, so they were left behind and were able to only see the Duke carefully examine a naked skeleton with some pieces of roasted flesh still hanging onto it.
"Marcus was a B-3 rank priest. He wasn't someone who would simply die without being able to do anything about whatever situation occurred here."
The Duke spoke to himself in a low and monotone voice.
"Seeing how he wasn't even able to move out of the house suggests that he faced a threat that was far, far, far beyond his abilities to cope with. Did you know that every time a priest uses their powers, be it on themselves or others, their bodies get temporarily strengthened in order to withstand the Divine might they channel through themselves? While it doesn't make them invincible, it's more than enough to withstand a fire. What does it mean, gentlemen? It means that Marcus died without even a chance to cast a single spell. A B-3 rank, killed like a chicken…"
"Was it a monster's doing, Your Excellency?"
"A monster… Huh. Indeed, it was a monster. The most vicious and the scariest monster in this kingdom. Hahaha, who did I provoke, just who did I provoke…"
The Duke sat on the snow mixed with ashes and laughed to himself quietly like a madman. The confidants were stunned. They seemed to hear their iron-willed Duke sob…
"Heh, humans, humans are so insignificant and yet, AND YET! We, haha, we think soooo much of ourselves! To think we dared to anger a God…"
The people aside from the Duke didn't understand what he meant.
"Hahaha… You don't see it, do you? Did you notice how the forest close to the village is completely unharmed? Did you find any traces on the snow? You, my dear comrades, should know quite a bit about hunting. Even if it snowed before we came, there should've been some traces left… And the corpses, the corpses are intact! There're no signs of a fight, no signs of a struggle and no signs of pillaging! It's like, haha, it's like the whole damn village just began burning all over the place out of nowhere! Hahaha!"
The confidants were quiet.
"It's obvious. She didn't even try to conceal her traces! She's probably laughing at myself somewhere, laughing at my helplessness right now! And the worst, the worst part is that I can't do anything about it! I won't dare! How could I?! There're no corpses of my children here…"
The Duke's monologue was still met with silence.
"But how? How did she find out?! I did my very best to hide their existence. Not even my f-family knew, b-but she! It's, it's too strange, isn't it?"
The three confidants were hit with a chill.
"Or was there a rat? WAS IT YOU, SIRIUS?! OR YOU, LEON?! OR WAS IT YOU, MARK?! WHO TOLD HER?! Tell me RIGHT NOW, who snitched or I, hehe, I, AHAHAHA!"
The three began to shiver despite their will.
"Your Exc-"
"So it was YOU, MARK! IT WAS YOU!"
"Your Excellency, it wasn't me!"
"THEN WHY ARE YOU SO AFRAID?!"
The three confidants were the Duke's closest and most trusted friends. They were with him through thick and thin. It was during this time that the trust between was tested.
Unfortunately, their trust failed the test. The Duke immediately struck a blow to Mark with a dagger; Mark didn't even have the time to open his mouth to explain himself when he felt pain in his abdomen. His shocked eyes fell on the enraged Duke and he lost his consciousness before he understood what happened.
""Mark!""
Sirius and Leon immediately supported Mark and the Duke only then realized what he had done. He immediately lunged towards Mark and supported his fallen friend.
"M-Mark, I, I'm sorry! Damn! Mark, don't!"
Luckily, the Duke brought a priest with him. The priest had poor physical abilities and he was left behind the four, after which he wandered among the ruins until he heard the screams.
He came at the right moment and the worst outcome didn't happen, but Mark fell into a deep coma.
In the end, everybody came back, but the mood inside the carriage was very heavy.
***
Elisa was walking around the town. She didn't have winter clothes and, frankly, she had no need for them.
She was humming to herself as she looked at the ice sculptures placed at every corner of every street of the town. The elf she recently visited was still hesitating over her offer. She knew it was but a matter of time, so she decided to stay and enjoy her unexpected "vacation" in the North. Besides, she had a feeling that something very interesting would happen there, so she really didn't hurry back to the Empire.
She always trusted her feelings…
***
Lachersia decided to take a detour to let Jennifer calm down and sort out her feelings. Judging by their current pace, they would arrive at the Laras Duchy's Capital in four days.