Silver Tongue + Charisma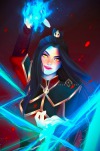 X
Reading Options
Font Size
A-
15px
A+
Width
A/N: Imagine having terrible time management skills.
Definitely me.
(◎_◎;)
***
"Me?"
The man with golden eyes looked confused for a second before smiling.
"Ah, yes! Me! You remember me despite only meeting twice and having such a brief time?"
Sokka slapped Genji's hand away and took a couple steps back before taking out his boomerang and aiming it at Genji.
"What is a Firebender doing here in the NWT?!" said Sokka with a frown on his face.
Genji, looking confused, said, "What do you mean? I'm no Firebender."
"You can't fool me!"
Sokka said as he narrowed his eyes and began to yell in a loud voice.
"Everyone! This man!
HE IS A FIREBENDER!"
~~~
"…"
"…"
The noises quieted down and everyone turned to look over at Genji and Sokka.
Even Katara, Aang, and Yue, all stopped what they were doing and looked over to Genji and Sokka confused.
It didn't take long before Katara and Aang looked at Genji with shock and wariness once they recognized him.
They didn't feel anger or annoyance towards Genji like they did towards Zuko since they haven't seen Genji in awhile. Last time they had seen him was back at the SWT.
Everyone in the building had stopped whatever they were doing and looked at Genji for a long time.
That was until a large round of laughs began and everyone just joked about it.
"HAHAHA! He said that the Advisor is a Firebender! AHAHA!"
"How funny! A Waterbender bending his opposite element!"
"Only the Avatar can bend more than one element! HAHAHA!"
Everyone began to laugh as they turned to Sokka, teasing him and even making fun of him.
"I'm telling you everyone! He can bend fire!" said Sokka with furrowed eyebrows.
Everyone laughed harder.
It was then that Aang stood up and walked forward and decided to help out Sokka a bit.
"C'mon everyone, he's only stating the truth. That man can Firebend blue fire!"
Eveyone quieted down a bit before they turned to each other and smiled.
"So… he bends 'BLUE' fire, you said?" asked one of the people with a large smile on his face.
"Yes!"
Sokka said with a smile on his face, thinking that the people were finally starting to listen.
"Hahaha!"
"BLUE fire he said! HAHAHA!"
Everyone laughed and it wasn't until they emphasized 'blue' that Sokka and Aang realized what the people had done.
Aang tried to shrink his head into his body and began to feel embarrassed as he heard the laughter of the crowd.
He looked around and eventually walked away with a lowered head.
Sokka, on the other hand, looked at Genji before saying, "Prove it.
Prove to everyone that you're not who you say you are. Show them your bending powers!"
Genji began to finally feel bad for Sokka and even the people making fun of Sokka and teasing him began to feel awkward.
They had personally seen Genji waterbend multiple times in the past few four-five weeks he had been here.
Even they began to feel embarrassed about Sokka who kept on pressing the issue and believing that Genji is a Firebender when 100% of the NWT can say that he's a waterbender and they've even seen him do it.
Genji scratched his cheek before shrugging and shaking his head, finding no way of getting Sokka out of this.
"Alright… if you say so," said Genji as he smiled.
Unconsciously, every person in the building had given Genji space for him to waterbend to his heart's content.
Everyone watched as Genji simply waved his hand a little and a ball of water began to slowly form on top of his hand.
A ball of water made from the water in the air.
Seeing Genji's nimble fingers move and rotate the waterball, Sokka's face was drained of all color as he looked at Genji Waterbending.
"Impossible!" yelled Aang after seeing Genji waterbend.
'It's impossible,' thought Aang.
He was one of the only people to receive Genji's attacks head on, he knew for sure that Genji is a Firebender.
'Or was he…?' thought Aang as he lowered his head and grabbed his head with his hands.
Sokka was also bewildered and confused.
Although he hadn't received any attack Head on or personally feel Genji's Fire, he knew what he had seen.
Finally, the third of the group, Katara.
Unlike the other two, she had an open mind, rather than say what he was bending, she focused on something else.
"It doesn't change the fact that you had helped the Fire Nation…" said Katara, confronting Genji in front of everyone.
Everyone gasped and turned to look at Genji.
Even Yue turned to look at Genji with a skeptical look on her face. Especially when a couple weeks ago he had mentioned helping someone from the Fire Nation.
Genji smirked and nodded to Katara's accusation.
"That's right. I was working undercover at the Fire Nation," said Genji as he looked straight into Katara's eyes.
Frowning, Katara stared at Genji, not believing a single word he had just said.
The other people however, were more inclined towards believing him after everything he had done for them.
"What do you think is the greatest threat, right now, to the future of the Four Nations?!" asked Genji in a loud voice, surprising various for the sudden question.
"Strength!"
"Intelligence!"
"Number of soldiers!"
"Discipline!"
"Tactics!"
Everyone began yelling various things, hoping to answer Genji's question correctly.
Genji shook his head and said, "It's the next generation of benders and rulers.
Who do you think will be next in line to the throne when we take down the Fire Lord?"
"The heirs to the throne?"
"Yes!"
Genji smiled and continued.
"When we take down the Fire Lord seeds of hate in the hearts of the heirs will sprout and that hate will be focused on everyone. We have to influence these minds whilst they are still young and have them turn into good people!
If we enslave the entire Fire Nation, it won't be long before they revolt and we have another war. We need to look for peaceful solutions.
Would you like your children to die? Your Grandchildren? Mother? Father? Wife? Husband? A lover?
Do you wish to sacrifice all that in countless wars when you can all live peacefully and live long enough to see the next generation grow and change the world into something amazing?"
Ba-dump!
Ba-dump!
Everyone's hearts began to beat loud and fast as they felt inspired by Genji's words and his eloquent speech.
Various people turned to look at their loved ones, children, parents, grandparents…
Their desire to protect them from such a cruel world had been ignited and they all felt invigorated.
"We will protect our families and future. We will rush into an era of peace and a world with no wars!" said Genji, inspiring the people even further, especially a young bald boy, Caillo-
COUGH!
Aang!
His eyes lit up and he looked at Genji with an amazed look on his face.
Even Katara felt strangely motivated and thought to herself, 'Maybe… he's not as bad as we thought. He never really hurt us…'
She thought back to the time back in the Southern Water Tribe and remembered the part where Sokka was about to attack Zuko, the Prince of the Fire Nation, before being attacked by Genji and being swiftly taken out in an instant.
'Was he protecting Sokka?'
Katara looked up and gazed at Genji, thinking that it may as well be possible.
"To protect our future, I had infiltrated into the Fire Nation and had managed to be put under the Prince. With that in mind, I was helping him change for the better. To see that the war is terrible and unneeded."
Everyone cheered and began talking amongst themselves.
"Now, all we have to do is to help the Avatar take down the Fire Lord and the peace of the world shall shine above everyone!"
The people cheered and they began chanting Genji's name in unison.
Genji was just smiling and nodding to various people, occasionally turning to look at the Avatar Gang and Yue.
Today!
Today marked the day that the entire capital city had fallen for Genji's sweet talk.
…
The crowd of people dispersed, their spirits ignited as they rushed to spread the word and become followers of Genji's ideals.
To rush the world into an era of peace.
Yue watched in astonishment as Genji had managed to completely pull in a large number of people to their side. To have them help him attack the Fire Nation and take just the Fire Lord down.
She watched in astonishment as even the Avatar was lured in by Genji's sweet talk.
By now, in just a single month, Yue had gotten closer to Genji and she had talked with him multiple times.
With their interactions growing, Yue began to notice that Genji doesn't do something without a purpose. Every single thing he does or says all leads to something eventually happening.
It astounds her and it inspires her to follow Genji and learn what she can from him to help the lives of her people.
They are friends, with some benefits included, and now, she has grown convinced of his abilities. She's willing to become an assistant of his and help spread his influence.
Following him will help her protect her people even better than before and quite possibly make them prosper.
…
"He's lying!"
"Stop it Sokka! Don't you see he's just helping the people of the NWT and is even willing to help Aang?"
"It's all a farce!"
Hidden away from public eyes, the Avatar Gang were standing in an alleyway where people hardly passed by.
Aang and Katara were on one side whilst an angsty Sokka was on the other side.
"Sokka, why can't you see that your wrong? Genji isn't like Jet. He hasn't attacked or hurt anyone. Not even Aang," said Katara as she looked at Sokka with a frown.
Sokka shook his head and furrowed his eyebrows, "You don't get it Katara, there is definitely something off about that guy."
"You're crazy Sokka," said Katara, shaking her head.
"Fine. I'll say it one more time. I WILL find out what's wrong with him and I will prove you wrong once again," said Sokka before walking away as he furrowed his eyebrows and walked away seriously.
Katara looked at Sokka leave and felt a bit guilty. It hasn't been long since she has promised Sokka that she will believe him more now.
It made her feel bad, so she turned to Aang and sighed.
"I'm sorry Aang, I'll follow Sokka and see if I can help him with anything. You go and find someone who can train us," said Katara as she followed behind Sokka.
Aang nodded and watched as Katara and Sokka disappeared out of the alley before also leaving the alley himself.
Walking around aimlessly, Aang wasn't too sure who he could get as a teacher. So he walked around, asking various people their thoughts on the matter.
…
"A Waterbending teacher?"
A NWT citizen rubbed his chin and turned to look at his wife.
"Honey, it should be that guy, right?"
The woman stopped what she was doing and looked at her husband with an unsure look on her face.
"This… it's going to be difficult since he's so busy now. But… if it's the Avatar…"
The man nodded and quickly turned back to Aang and said, "You will have luck with the Chieftess' Advisor. He's the most skilled waterbender we know. Making water appear out of thin air and even bending water with his mind."
"Wow! Bending water with his mind!" Aang stood up with excitement and jumped in the air with his airbending. "I've got to meet him now! Who is he?"
"Hm? What do you mean who is he?" asked the husband.
The wife lifted her head and said, "You met him this morning you know?"
"Who?"
Aang looked at the pair in confusion and tried thinking so hard about who it could possibly be.
The husband and wife turned to look at each other a bit confused as well, wondering why the Avatar doesn't know or remember. Then, they just smiled and said the answer in unison.
A name that surprised Aang.
""Genji.""