Chapter 2 – Beginning of the new life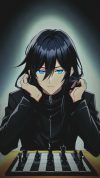 X
Reading Options
Font Size
A-
15px
A+
Width
For couple of minutes I couldn't feel any thing , i was starring at holographic screen in front of me, while laying on bed
Name - Ben
Age - 16
Rank - F
Strength - 5
Speed - 5
Agility - 4
Mona - 6
Intelligence - 6
Charm - 3
Skills - none
Martial arts - none
Rank limit - D
I couldn't make of it anything and faded away, as I tried to get up my body felt heavy , my hands were thin like sticks. I got confused as f*** , I ruched towards the mirror in the room . I was thin but I will not it looked like a healthy body. My body was lagging behind like my sole was not in sink with this body. As I moved around the room my body started to get in sink with my thoughts. I towards myself in the mirror jet blue hair, a decent face, and stick like body. Naaa who I am fooling I like ugly as f***.
Wait a minute I saw some sort if holographic window few minutes ago. As I start to focus in it, a holographic window pop up's. 
Name - Ben
Age - 16
Rank - F
Strength - 5
Speed - 5
Agility - 4
Mona - 6
Intelligence - 6
Charm - 3
Skills - none
Martial arts - none
Rank limit -  D 
This looks familiar, ohh ya for my novel. Hol up I am in novel maybe I am the main character. As I tries to open more system window like my main character in novel, nothing happens . After tring for couple of minutes, I got flustered and give up. 
While laying on the Ben think " Anime lied to my thay always show main character get over powered after getting recreatied ,I am pretty weak Rank - F and Rank limit - D , I am not even close to a main character "