chapter 3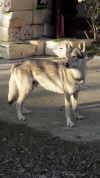 X
Reading Options
Font Size
A-
15px
A+
Width
- Who the fuck are you? - he exclaimed, jerking himself up so quickly that his forehead collided with mine.
I flinched and squinted for the bang.
- Get out of my house - he yelled stepping out of bed.
I stood still a few meters away from him, staring at him.
- I can't - I muttered.
- If you need money, there are a couple of hundred dollars on the kitchen counter, he said - now leave -
- I don't want your money - I replied, staring at him
- then what do you want? - he asked, frustrated.
I drew on my power, tearing down the protective walls that had been meticulously built over years of practice; I saw his eyes widen in amazement, the fear clear in his eyes. - Who are you? - he enquired.
- I'm sorry – I said Looking at him with sadness and resignation - I don't have a choice -
- who sent you? - he was terrified.
My only melancholy response was – fate. -
- I have a lot of money - he started stuttering - double the amount of anyone who is paying you -
I bitterly laughed - sorry, it's a pro bono job I sincerely apologize -
He attempted to flee to my right, but I simply extended my arm to block his futile attempt. As I touched him, his body immediately cooled, his lips turned blue, and his teeth began to chatter from the cold that radiated inside him. I could feel my eyes turning the color of liquid metal with a purple tint, and the hairs on my nape rising from the electrostatic energy radiating from me. In an attempt to free himself from my grip, he began to wriggle out, kicking and punching. But it was all for naught because he was just a frail human up against a creature he couldn't even name. I moved closer until my face was only a few inches away from his.
- I'm sorry - I said as my lips touched his.
His body fell limp on the floor, his dark eyes dulled and lifeless. I didn't dare to look at the dead body beneath me any longer, i couldn't or I would have a mental breakdown right then and there. I had to stay focused and emotionless throughout this shitty gig.
The itching sensation inside my wrist indicated that a new tattoo had formed on my skin. I pushed up the left sleeve of my jacket, revealing an inch-long thick black line of ink. I quickly raised all of my power's protective barriers, and the frost that had now radiated into my bones slowly left my body, while my eyes returned to their natural green color.
Leaving the dead body there, I left the House, exhausted and with the desolation that had annihilated me. As the sun peered out from behind the abandoned buildings down the street, I could hear an old bell tower ringing in the distance, indicating that it was six a.m. I still had two hours before the validation of my mission's closure, so I went to have breakfast at the boutique cafè close to the tavern I had been last night. I filled the time, knowing that if I waited at my apartment, I'd fall asleep as soon as I lay on the couch. The tingling sensation in my arm where I had the sting returned as I walked to the train station.
I needed to figure out what it meant as soon as possible, but not today; today I just wanted to finish work, go home, and collapse on the bed, not thinking about anything until my stomach woke me up to be filled with food. I reached the cafè after about a half-hour train ride. I ordered a cold latte and a croissant and sat at the farthest table from the door, waiting for my man to appear. I didn't have to wait long before a young man in his twenties walked in, a red poppy pinned to the lapel of his office jacket. Everytime, they sent a different person to pick me up after I completed a job. A poppy was always the distinguishing feature that helped me identify them as Mercy's men.
- All set?- he asked, his voice too deep for such a young man.
I nodded.
- come - he said as he walked away, not looking back to see if I was following him.
I hurriedly tossed a few notes on the table before following him. We walked for a few minutes through the city's now-illuminated alleys before coming to a dead end near a tall, seemingly abandoned building. We entered through a creaky red iron door. once my eyes accustomed to the darkness inside, I noticed the boy had stopped and was now staring at me . Without saying anything, I pulled my left sleeve up, accustomed to this procedure by now, revealing the tattoo.
He immediately grabbed me, hard-squeezing my wrist; his nails elongated before my eyes and pierced into my flesh. Thick purplish blood stained my bare arm, When a sensation of something being torn from the inside radiated from my arm to my entire body, as if they were exporting me an organ without anesthesia. I ignored the pain and remained motionless. I clenched my teeth and bit the inside of my cheek, tasting my own blood, avoiding to scream out of pain. The boy soon left my arm, the pain subsided, and the only recollection of the event was the now healed wrist, which had no ink mark to color it but blood splattered all over it.
- we'll meet again – he said and left.