Hello, Hello…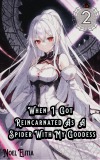 X
Reading Options
Font Size
A-
15px
A+
Width
Hello. Hello. Hello. - Finally we have got a patreon page on our side - early access to all chapters at reasonable coins - do check out the benefits and support me. - https://www.patreon.com/noelelitia
You can already read the next latest chapter on patreon right now if you want and tell me how it is.
You will have early access to advanced chapters & bonus chapters(volume6.5 - that I have been planning to do - separate from the main story)
Then there will be several of  new illustrations uploaded form time to time.
Your can also read the latest manga chapters that I make before they go public.
And you can surely ask me anything related to the novel.
All these at a very reasonable price charged monthly, do check the page out and then make a decision. We will be happy to have you there as well, as our special supporters.
Would also like to thank - thibaut perrier - for being one of the first patreon to show their support to us.
Thank you for joining us on patreon and be among one of the first to support us...
As a general reminder, the latest chapter has already been updated on patreon, and you can read it right now.
I hope that you keep enjoying my novel and more amazing chapters to come.
I am hopeful that your coins you spend there to read more of my story will be used in improving the contents of the novel furthermore and to improve your reading experience.
Once again thanks for your support to the title - When I Got Reincarnated As A Spider With My Goddess.
Hope to keep hearing from you soon.
\_(ツ)_/ ̄ Join discord community to have access to a large number of illustrations related to the chapter and also keep getting informed about the chapter release dates and news.
Join discord community - https://discord.com/invite/WUGFUxbpbd
\_(ツ)_/ ̄ SUPPORT ME IN MY WRITING ̄\_(ツ)_/ ̄
Till now I have published from volume one to volume five for free. And I hope to continue to do so even now. It has really been an exciting work for me to narrate you the story of our main character who fights her way to the bottom of abyss with her magic and skills and then eventually storms in the outside world.
Keeping the text error free takes a lot of revisions and consumes time, but no work is ever perfect. With your support and reviews I know that I have improved a lot in my writing.
You can support my writing by reviewing my book on the platform you are reading or especially rate my book on Amazon Kindle.
And even now I am asking for a bit more that if you voluntarily support my writing then you can do it now by donating me.
Paypal - paypal.me/Harshitintelligent
Become a patreon(for early access to chapters) - https://www.patreon.com/noelelitia
Buy me a coffee at - https://ko-fi.com/noelelitia
You can support me from (razorpay gateway) - https://rzp.io/l/LgC54Q3
Even a little amount helps. I hope that you keep enjoying my work and in knowing the interesting characters which will be constantly introduced to you in the story.
I hope that the next chapter too proves to be to your liking!